Best Italian Food in Kenosha
Your Choice for the
Best

Italian Food in Kenosha
DeRango's Restaurant & Sports Bar has been serving the Kenosha community amazing food for over 45 years!
Located in the heart of our city off of 22nd Ave, DeRango's has been serving the best Italian food in Kenosha for decades!. You can come on in for amazing food, full bar service, and good times! If you're looking for classic, Italian specialties, we have it all!
Mostaccioli, spaghetti, gnocchi, homemade ravioli, homemade lasagna, chicken parmigiana, and MORE! Dinners come complete with soup or salad, romano cheese, and Italian bread.
We've also got classic homestyle dishes like fried chicken, pork chops, and sandwiches galore! However, we're known as "The Pizza King" for a reason!
Order a specialty pizza, like Frank's Special House Pizza, or build your own pan, thin-crust, or old-fashioned Italian-style pizza. In the summer, you can order off a specialty menu and enjoy the sights and sounds of beautiful Kenosha on our patio.
We also would love for you to visit for any special occasion in your life! DeRango's wants to give you a special treat when you dine with us.
For many years, we have celebrated birthdays and anniversaries with our patrons in Kenosha, Wisconsin. You can sign up for our Birthday Club here or ask your server about it when you dine with us.
Looking for the best Italian food in Kenosha, but don't want to come out? We got you! Order your favorites and have them delivered right to your door!  We do family carryout and cater parties and events as well!
Contact us for more information on the best Italian food in Kenosha! Make sure to follow us on our Facebook page to keep up with all things DeRango's!
We also offer a variety of Daily Specials and Family Meals!
View Menu
Contact Us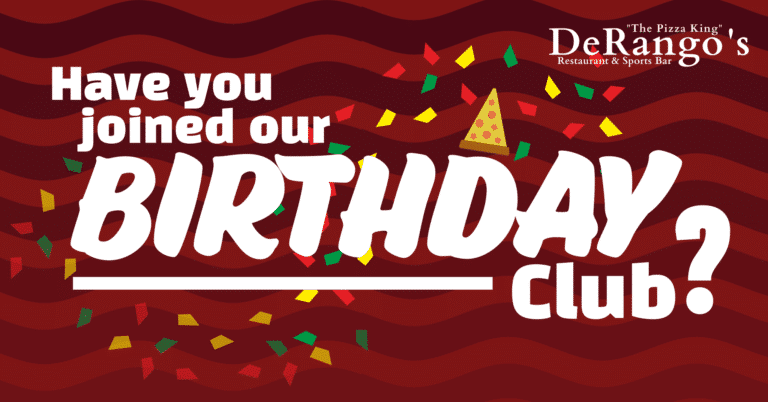 We ♥ our customers!
Make sure you join our birthday club to get a special treat when you dine with us! We are very fortunate to be able to serve our community.
That is why we believe in celebrating what has made us successful, and that is you! Learn more here.